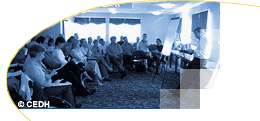 CEDH teachers have a solid experience in homeopathic clinical practice and are eager to share and pass on their knowledge. They adhere to a charter describing the CEDH teaching and ethical values, they maintain an attitude of fellowship and they respect the CEDH educational guidelines.

Dr. Ronald Boyer is an internationally recognized authority in the education and practice of homeopathy. He is the president of the Center for Education and Development of Clinical Homeopathy (CEDH), a subsidiary of the International Foundation for Clinical Homeopathy (IFCH), which trains as many as 3,000 doctors in clinical homeopathy in more than 20 countries throughout the world each year.
Dr. Boyer holds a doctorate in medicine from the University of Montpellier (France) and two homeopathic specialty degrees from both of France's premier accrediting homeopathic educational institutions. Dr. Boyer maintained a private practice specializing in family medicine for more than 20 years, during which time he lectured extensively on the subject of homeopathy throughout France and the United States. From 1992 to 1998, he served as the senior lecturer in charge of the medical homeopathic division of the Technikon Natal, a post-graduate educational institution in Durban, South Africa.
Dr. Boyer is a founding member of the International Medical Homeopathic Organization (OMHI) and an honorary member of the South African Medical Homeopathic Association (SAHMA). Dr. Boyer is the co-author with Dr. Alain Horvilleur of four books: Homeopathy During Pregnancy, Homeopathy and Headaches, Homeopathy and Stress and Homeopathy and Rheumatism. Dr Boyer is co-author of 150 diseases – 600 medicines.

A board-certified physician, Donna C. Ruiz, MD relocated to the West Coast after 12 years of experience working as a pediatrician in private practice in northern New Jersey. She also served as Attending Physician in the Dept. of Pediatrics at Hackensack University Medical Center in Hackensack, NJ and The Valley Hospital in Ridgewood, NJ. She joined Whole Child Wellness, a holistic pediatric practice in the San Francisco Bay area, in 2010. Dr. Ruiz received her MD from the University of Santo Tomas, Faculty of Medicine and Surgery, in the Philippines and then completed her residency in pediatrics at UMDNJ Robert Wood Johnson University Hospital, as well as a fellowship in pediatric rheumatology at The Hospital of Special Surgery, affiliated with Cornell University Medical College in New York. She completed her acupuncture education through the American College of Acupuncture in New York City with additional clinical training at Chengdu University Hospital of Traditional Chinese Medicine in China. Dr. Ruiz is a fellow of the American Academy of Pediatrics and is trained in the biomedical approach to autism. She has additional training in clinical homeopathy, functional medicine, holistic nutrition, and herbal medicine. Dr. Ruiz works with like-minded physicians in delivering comprehensive care for her patients by integrating traditional medical practices with natural medicine, homeopathy, nutrition, acupuncture, and aromatherapy to promote the body's intrinsic healing capacity. Her passion lies in providing integrative care to children with chronic health problems who suffer from autoimmune disorders, allergies, asthma, ADHD, gastrointestinal disorders, and food allergies/intolerances. Dr. Ruiz believes that optimal health and balance can be achieved by empowering the patient and developing and integrative wellness plan suited to meet each patient's individual needs.

Dr. John W. Golden has traveled an unusual path to arrive at his current medical practice. After graduating from Northwestern University medical school in 1980, and completing a residency in Family Medicine at the University Of Illinois College Of Medicine in 1983, he joined a Family Practice group in Silvis, Illinois. However, within a few years he realized that his path led him towards more natural ways of healing. He completed a fellowship in integrative medicine at the University Of Arizona College Of Health Sciences, and since 2002 has been the Medical director of the Genesis Integrative Wellness Center, in Moline, Illinois, where he blends conventional and complementary therapies for the betterment of the patient.
Dr. Golden is board-certified in Family Medicine and Geriatrics. He also holds a board certification from the American Board of Integrative Holistic Medicine. He is an assistant clinical professor at the University of Illinois College of medicine, a published author, and a diplomat of the CEDH. He has lectured extensively to both lay and professional audiences. Because every patient he sees is unique, Dr. Golden sees homeopathy as a safe and effective modality  that he can offer his patients looking for an integrative approach to healing.

Youngran Chung, MD is a pediatric pulmonologist at Ann & Robert H. Lurie Childrens' Hospital and an Assistant Professor of Pediatrics at Northwestern University Feinberg School of Medicine in Chicago. She obtained her medical degree from the University of Chicago Pritzker School of Medicine and completed her pediatric pulmonary fellowship at Case Western Reserve University / Rainbow Babies & Children's Hospital in Cleveland. She is a diplomate of the CEDH and is also board certified in Medical Acupuncture and is board certified by the American Board of Integrative Medicine.
She integrates homeopathy extensively in her pulmonary practice, and has authored articles in medical journals as well as book chapters on the topic of homeopathy. She has given symposiums and presentations on homeopathy at conferences in the United States as well as abroad.

Elisa H. Song, MD founded Whole Child Wellness, a holistic pediatric practice, in 2005.  She graduated with distinction from Stanford University.  Dr. Song attended NYU School of Medicine and trained in Pediatrics at UCSF Medical Center.  She earned a Master's degree in public policy from UC Berkeley.  Dr. Song has additional training in Homeopathy, Functional Medicine, Acupuncture, Herbal Medicine, and Flower Essences.  Dr. Song has also been trained in the Defeat Autism Now! biomedical approach to autism.  She is board-certified in Pediatrics and Holistic Medicine, and is a fellow of the American Academy of Pediatrics. Dr. Song integrates allopathic (conventional) pediatrics with complementary & alternative medicine to meet the unique physical, psychological, social, and spiritual needs of each child.  Dr. Song has a special interest in providing integrative care for children with complex medical issues, including autism, asthma, autoimmune illness, eczema, food allergies/sensitivities, inflammatory bowel disease and other gastrointestinal disorders, and environmental illness.  She believes in the innate healing capacity of each child's body and mind, and that her role is to facilitate this process through a holistic, integrative approach.

Dr Dumont is a board certified pediatrician practicing Pediatric Integrative Medicine (Complementary Alternative Medicine) at the Raby Institute for Integrative Medicine at Northwestern, LLC in Chicago.(USA). Previously he was associate professor of pediatrics at Loyola University medical center. There he was director of the Pediatric Integrative Medicine Program, medical director of pediatric nutrition and was also director for the Pediatric Cystic Fibrosis Center. For the past 13 years he has also been medical director of the Easter Seals DuPage Feeding Clinic and is an expert in pediatric feeding problems. He is also a member of the Homeopathic Pharmacopeia Convention of the United States (make recommendations on homeopathic medicines to the Federal Drug Administration).
Practicing Integrative medicine for nearly 20 years Dr. Dumont is board certified in Integrative medicine through the American Board of Integrative Medicine (ABIoM), American Board of Integrative and Holistic Medicine (ABIHM) and Medical Acupuncture through the American Board of Medical Acupuncture (ABMA). He has had training in other areas including: mind/body medicine at the Harvard Mind/Body Institute; medical hypnosis through the American Society of Clinical Hypnosis and the Society of Behavioral and Developmental Pediatrics; functional medicine through the Institute for Functional Medicine; Homeopathy through the American Institute of Homeopathy and the Center for Education and Development of Clinical Homeopathy (CEDH). He is currently a senior teacher in the CEDH homeopathy for physician training program. His publications in this area include a State of the Art Review article on CAM (Pediatric Pulmonology 2011) and a chapter on Clinical homeopathy in a forthcoming Naturopathic textbook (The Foundations of Naturopathic Medicine – in press) chapter on use of CAM for Parasomnias (2013); and is co-editor of a book Nutrition in Pediatric Pulmonary Disease (2014).
He has extensive experience in many areas of Integrative Medicine and has lectured nationally and internationally on the subject.

Dr. Larry Baskind graduated from Princeton University as an English major (1976) and from the New Jersey Medical School (MD 1983). He did a residency and chief residency in pediatrics at the Children's Hospital of New Jersey in Newark (1983 – 1987). He was Director of Pediatrics at the Peekskill Area Health Center (now called Hudson River Health Care) from 1987 – 1992. With Stephen Cowan MD,. He founded Riverside Pediatrics in Croton on Hudson, New York, in 1991. Dr. Baskind is a clinical associate professor at New York Medical College and is an attending physician at Hudson Valley Hospital Center. His main interest during his career in general pediatrics has been integrating complementary medicine into a conventional practice. he has studied western herbal and Chinese medicine, and homeopathic medicine. His goal has always been to offer his patients the safest and most effective medical treatments.

Elena Klimenko, MD has recently joined the CEDH team after completing the course in 2005. She was initially trained as an internist and after that searched for alternative ways to achieve and maintain optimal health. She graduated from an integrative medicine fellowship program at the Continuum for Health and Healing in New York City and, at the same time, completed training and certification in acupuncture. After graduating from the CEDH course Dr. Klimenko successfully implemented her new-found knowledge of homeopathy into her daily practice.
Dr. Klimenko currently practices in a private practice in Manhattan, as well as attends indigent patients in one of the Medicaid clinics (International Center for Disabled). Her main goal is to help her patients to achieve optimal balance and health. She also has some special interest in treating chronic pain and addiction problems. In her diverse practice she successfully utilizes homeopathy with conventional and other alternative treatment modalities.

Dr. Marcel Fraix incorporates clinical homeopathy into his medical practice and is a teacher for the CEDH. He is an Assistant Professor at Western University of Health Sciences in Pomona, CA and is board certified in Physical Medicine and Rehabilitation. Dr. Fraix uses clinical homeopathy to address a variety of conditions and promote the health of his patients. He also specializes in musculoskeletal medicine and uses an integrative approach for the treatment back pain. Dr. Fraix received his doctorate in osteopathic medicine from the College of Osteopathic Medicine of the Pacific in Pomona, CA. He completed his residency in Physical Medicine and Rehabilitation at U.C. Davis Medical Center in Sacramento, CA and fellowship in Neuromusculoskeletal Medicine at Downey Regional Medical Center in Downey, CA.

Dr. Payam Hakimi is a contributing author of Homeopathy for today's practitioners and general public. A Board Certified Family Physician with a diverse medical training, he has combined his medical knowledge with specialized alternative medical modalities to create an integrative and comprehensive medical practice. He is currently the medical director of Body of Harmony in Beverly Hills, CA and the medical director of the American College of Integrative and Functional Medicine. Apart from his medical practice, Dr. Hakimi is a Clinical Assistant Professor of Osteopathy and Family Medicine Western University of Health Sciences, College of Osteopathic Medicine of the Pacific (WUHS COMP). He is a teaching faculty at the Center for Education and Development of Clinical Homeopathy training other physicians this valuable system of medicine.

Even before completing his CEDH course in 2007, Dr David was already integrating his acquired knowledge in homeopathy into his private pediatrics practice in Arecibo, PR. Being avid reader and student, and having innate teaching skills, helped him develop swiftly as a CEDH teacher. He Graduated in 1980 from the Universidad Autonoma de Santo Domingo, in the Dominican Republic, where he was also an assistant professor, and did his pediatrics residency at the Jose Gandara Hospital in Ponce, Puerto Rico in 1986, where he was Chief resident.
At present, he also offers his services at a local government health center as pediatrician. His experience at the various government hospitals in both islands led him seek new treatment tools for his young patients, finding a most fulfilling and challenging one in Homeopathy. He is an active leader in the regional pediatrics association, and being a CEDH faculty member gives him the opportunity to pass on this acquired knowledge to his colleagues.