Clinical Homeopathy Training Courses
CEDH News
CEDH Course Overview
Teacher Testimonials
New Oncology Database on Homeopathic Treatments for Cancer Palliative Care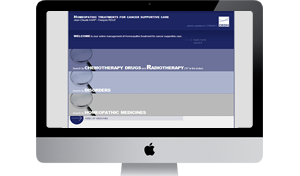 The new CEDH database on Homeopathic treatments for Cancer palliative care was written by Jean-Claude Karp MD, Oncologist and Francois Roux DPharm, both CEDH teachers.
The database can be easily searched, either through the name of the chemotherapy drug (or radiotherapy), by disorder, or by homeopathic medicine.
Each chemotherapy drug is described; Family, Indications, Presentation, Dosage, Method of administration, Surveillance and toxicity.
Followed by its side-effects on different organs, tissues and functions accompanied by the corresponding palliative homeopathic medicines with their dilutions and short materia medica.
Finally, a general treatment regimen, the first order and what to look for during the next consultation.
This database is indispensable, not only for those of you whose specialty is to treat cancer patients but also for all of us who have patients undergoing chemo or radiotherapy. The database can be accessed with $50 life-time membership fee, which can be paid online with a credit card.
CEDH Partners With CTCA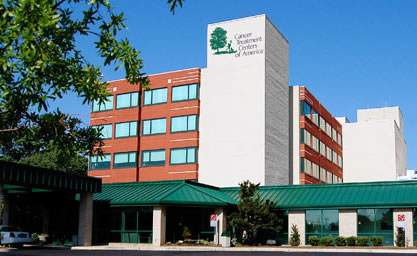 CEDH has partnered with Cancer Treatment Centers of America (CTCA) to bring CEDH courses back to Philadelphia. For more information on CTCA, visit: cancercenter.com/eastern.

Registration is now open for the 2013-2014 courses.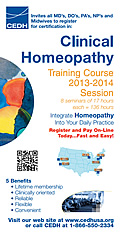 The CEDH courses are designed for MDs, DOs, PAs, NPs and Midwives.
Top 5 reasons to take the CEDH training course:
Lifetime membership
Reliable: The course is run by physicians, well experienced with clinical knowledge.
Clinically oriented: clinically oriented for health care professionals with a large variety of specialties. Integrative in more systematic way to treat patients with a comprehensive and practical course.
Flexible: The course offers flexible schedule. Once you register, you are eligible to attend all 8 weekends every year for free!
Convenient: 6 Convenient locations (New York, Philadelphia, Los Angeles, Chicago, San Francisco and Fort Lauderdale) and held during weekends to avoid being away from your practice.
Differentiate yourself from other physicians by integrating Homeopathy in your daily practice in joining the most comprehensive, enjoyable and valuable Homeopathic course available.

View Course Schedule Download Brochure Register Online Contact us
Course Details
First section of the training covers Homeopathy's general principles (51 hours) while the second section focuses on case studies and specialty modules in ENT, pediatrics, gynecology, dermatology, gastroenterology, circulatory disorders, rheumatology and behavioral disorders (85 hours). A downloadable brochure, as well as additional program details, online registration and payment is now available.
For more information contact Gina Vottero, Gina.Vottero@CEDH.org or 1-866-550-2334.